1.     Overviews
1.1     If you are a consumer, meaning that you are not buying our product(s) in the course of your business, trade or profession, you are entitled to 2-year limited warranty against manufacturing defects in materials and workmanship, starting from the date of delivery.
1.2     The 2-year limited warranty covers the electronic parts (if applicable) and non-wear and tear components: motor, controller, torque sensor, battery, etc. Frame is covered by limited warranty for 5 years. The warranty does not cover: any consumables, any non-original or unauthorised components and parts, normal wear and tear of any covered components, any damage or defects to covered components resulting from failure to follow instructions in the owner's manual, force majeure, accident, theft, vandalism, misuse, neglect, abuse, commercial use, alterations, modification, improper assembly, operator error, water damage, extreme riding, stunt riding, or improper/unauthorised maintenance and services. As for battery, the warranty doesn't cover damages from power surges, use of improper charger, improper maintenance or other such misuse, normal wear or water damage, improper storage (under -20° or above +45°). Wear and tear components are not covered by the 2 years of warranty, we will still offer support if needed on these components with some reasonable fee charge.
1.3     Detail warranty period for most component as shown on the below table:
| | |
| --- | --- |
| Product | Warranty Period |
| Tire | 3 months |
| Inner Tire | n/a |
| Seat Pad/saddle | 6 months |
| Grips | 3 months |
| Discs | 6 months |
| Brake Pads | 3 months |
| Seat Tube Clamp | 3 months |
| Pedals | 1 year |
| Hydraulic Disc Brakes | 1 year |
| Display Panel | 1 year |
| Front Light | 2 years |
| Bottom Bracket | 2 years |
| Charging Port Cover | 2 years |
| Motor | 2 years |
| Controller | 2 years |
| Torque Sensor | 2 years |
| Sprocket | 2 years |
| Crank | 2 years |
| Forks | 5 years |
| Frame | 5 years |
| Battery | 2 years |
| Front Hub/Wheel Hub | 2 years |
| Rim | 2 years |
| Belt | 2 years |
| Freewheel | 2 years |
| Waterproof line | 2 years |
| Handlebar | 2 years |
| Stem | 2 years |
| Seat Post | 2 years |
| Bracket Parts | 2 years |
| Charger | 2 years |
| Inflator | 2 years |
| Backlight | 2 years |
| Quick Release | 2 years |

2.     Process
2.1     To initiate the warranty process, you must contact and inform the customer service of Tenways. We may request you to show the proof of purchase and the most detailed description possible about the issue and photo and/or video materials if possible. Please note that before the issue is completely resolved, you should stop using the product(s) for your safety.
2.2     Customer service of Tenways will work with you on the problem with your product(s) to identify potential resolutions. Depending on your situation, possible remedies may be: we guide you to perform simple fixes by yourself; you return the product(s) to the place of purchase (please retain original box/packaging). We will instruct you regarding the procedure. The defective component will be replaced with another original component or with another equivalent component.
2.3     Please note that you should always contact Tenways for warranty claim and get a prior notification and authorisation from us before taking further action. Unauthorised repairs hinder our ability to review the defect and decide whether it falls under the warranty. The warranty may be void if you or third-party attempt to repair the product(s) without a prior notification and authorisation from Tenways.
3.     Important hint
3.1     LIKE ANY PHYSICAL ACTIVITY, RIDING A BICYCLE MAY CAUSE MINOR OR MAJOR INJURIES OR DISCOMFORT AND MAY WORSEN OR COMPLICATE UNDERLYING MEDICAL CONDITIONS OR DISEASES. BY CHOOSING TO RIDE A TENWAYS BICYCLE, CLIENT ASSUMES ALL RESPONSIBILITIES AND RISKS FOR ALL SUCH INJURIES OR OTHER MEDICAL CONDITIONS.
3.2     CLIENT ACKNOWLEDGES THAT OPERATING THE BICYCLE HAS INHERENT RISKS, DANGERS AND HAZARDS, INCLUDING, BUT NOT LIMITED TO, TRAFFIC CONDITIONS, WEATHER CONDITIONS, ROAD AND SIDEWALK CONDITIONS, NATURAL AND UNNATURAL OBJECTS AND OBSTACLES, IMPACT OR COLLISION, AND NEGLIGENCE OF OTHERS. CLIENT ACKNOWLEDGES AND AGREES THAT LIMITS ITS LIABILITY AS PROVIDED IN THIS SECTION. CLIENT SHALL INDEMNIFY AGAINST, AND SHALL HOLD HARMLESS FROM ALL COSTS, EXPENSES, AND LIABILITIES (INCLUDING REASONABLE ATTORNEY'S FEES) FROM ANY CLAIMS BY CLIENT OR ANY THIRD PARTY ARISING OUT OF CLIENT'S USE OF THE BICYCLE. WITHOUT LIMITING THE GENERALITY OF THE FOREGOING, EXCEPT AS EXPRESSLY PROVIDED HEREIN, THE CLIENT ASSUMES ALL RISK AND LIABILITY FOR ANY AND ALL LOSS, DAMAGE, OR INJURY INCLUDING DEATH TO PERSONS OR PROPERTY OF THE CLIENT OR OTHERS ARISING OUT OF THE BICYCLE POSSESSION, USE, OPERATION, OR CARE AND CONTROL OF THE BICYCLE BY THE CLIENT INCLUDING, BUT NOT LIMITED TO, ALL MEDICAL COSTS AND FINANCIAL AND ECONOMIC LOSSES.
Removable Battery
Large 10.4Ah capacity | Charge on or off the bike
Smart LCD Display
Pair with the TENWAYS App to navigate your route
Front Suspension Fork
For a smooth, bump free ride
Rear Turn Signals
Let other road users know where you're going to turn
Hydraulic Disc Brakes
For smooth and safe stopping power
Selle Royal Saddle
Quality Selle Royal Saddle for maximum comfort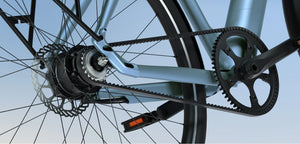 Providing smooth delivery of power
Providing 18,600 miles of maintenance free cycling
Delivers power on demand without lag
Guide your ride with smart navigation
Connect to the TENWAYS App via Bluetooth & link directly to the integrated LCD display for seamless navigation
Full Assembly Video 🔧 🎥
What's in the box?
Also consider.....
The Econic One Comfort. Similar to the Tenways CGO800s but more suited to hilly routes due to having gears.
Why buy from us?
FREE SERVICING
FREE EBIKE INSURANCE
30% OFF ANY Oxford Lock
★★★★★

Bought X8 scooter .
Excellent product is robust and fit for purpose does about 15-18 miles on high speed , more on lower settings this bearing in mind I am 16 1/2 stone so I am sure would do much more if lighter !!!
Excellent service
Excellent communication from Seller .

100% recommend .

John L

Scunthorpe, UK
★★★★

Purchase was hassle free whole process was easy and delivery was super quick, post-sale experience was good.

Rob M

Cheltenham, UK
★★★★★

Horizon Micromobility are a very pleasant company to do business with.
I was able to choose a method of payment that suited me, their customer service is excellent, both friendly and professional, goods were delivered on time by a decent courier service (and a decent courier service is a deciding factor - I wouldn't buy products from a company that uses a courier that just throws boxes over the fence!).
These guys will be my first port of call when buying myself a scooter :)

Tina I

Peterborough, UK
★★★★★

Very happy customer. Really pleased with the e-scooter I purchased from Horizon Micromobility, very quick turnaround on the delivery, ordered Wednesday, received Friday just in time to have a go on my new purchase for the weekend. I would definitely recommend using this company if they have the product you are looking for.

Anonymous

UK
★★★★★

I am in love with this machine!
Being a larger gent and having recently developed mobility issues I decided that an e-scooter was a good 1/2 way house between my old self and a mobility scooter.
I have always been fit and partaken of sports requiring balance (skiing, cycling etc) but i also come in at 6 foot 4 and 19 stone. So I needed something big and strong to take me up the hills which have recently become my bete noir!
Horizon Micromobility helped me to make the right decision and i am beyond delighted with my new machine which has reopened areas which had, sadly, become beyond my range. Remember it is not necessarily about the journey but it is always about the destination!
I honestly cannot recommend these guys enough. they are friendly, knowledgeable and extremely helpful and flexible.

Charles M

Docklands, London, UK
★★★★★

Customer service is the best I've had, ever I think.
Was kept in the loop throughout the process.
Staff are very friendly.
Would absolutely use this company again.
Thank you all very much indeed!

Peter H

Peterculter, Scotland, UK
Visit us
Get in touch to arrange a visit to our Hare Hatch, Reading showroom & warehouse. See before you buy and test rides available.