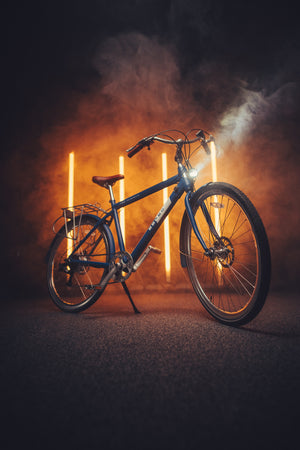 covering different styles of e-bikes
E-bikes, electric bikes, pedelecs or EAPCs (electrically assisted pedal cycles) are bicycles that are assisted by an electric motor.
The UK law currently states that in order to be legal to ride on the UK roads:
• bike must be fitted with pedals
• average power of motor must be 250W or less
• max voltage 48V (this rules out 48V batteries as their max voltage is over 50V)
• can't be fitted with "twist & go" style throttle
• motor must cut out at 25km/h, 15.5mph
• riders must be 14 or older
• no licence, MOT or registration required
• can ride anywhere a conventional bike can, including cycle paths & cycleways

The UK legal type of e-bike is known as "Class 1 e-bike." Class 2 e-bikes are throttle assisted bikes - so power is provided by activating a throttle with no pedalling required. While this class of e-bike is not illegal in the UK the law classes them as mopeds so the same rules apply, licence plate required, valid insurance, must wear a helmet etc. 
There are various different styles of e-bike. This guide covers the main different options available, once you've read this guide then read the guide on what to look for on the different components on e-bikes.
Types of e-bike
There are now as many e-bike categories as there are for regular bicycles. The right e-bike for you essentially boils down to what its main use is for. 
City, Hybrid, Commuter Style
Typical customers would be commuters looking to an alternative way to travel to work but don't want to to travel by car or public transport. Nor do they want to use a traditional bicycle and arrive at work a sweaty mess. 
This category of e-bike is also popular with shoppers looking for an environmentally friendly way to pop down to the shops as they have storage options.
The step through design also makes this style of e-bike popular for the less mobile riders as it's a lot easier to sit on the saddle than bikes where you have to swing your leg over the top tube.
City, Hybrid, Commuter Style e-bike
Also known as a "Dutch Style" bike.
Features include:
"Sit up & beg" riding position
"Step through" or Dutch style frame design 
Flat bars
Pannier rack for storage
Lights
Mud guards

Image on left shows the Lyssa e-bike with fully integrated battery in frame, rear hub motor & pannier rack.
Folding commuter e-bikes
If you intend to use your e-bike on public transport during rush hour then a folding e-bike is your only option as most train operators don't allow bikes that aren't folded.
Folding e-bike
Features include:
Lightweight, foldable design
Lights
Mudguards
Image shows Uranos e-bike with integrated battery design
Mountain (MTB) & Off Road e-bikes
If you intend to ride mainly off-road then there are many different options available depending on how "off-road" you intend to ride. Most e-bikes designed for off-road will have some form of suspension. If you only intend to ride bridleways & light off-road tracks then front suspension only is adequate. If you looking to do more tricky, technical routes then front & rear suspension would be a better option.
Off-road ebike
Sub groups include trekking & mountain bikes.
Features include:
Suspension either front only of front & rear suspension
Wider tyres
Stronger & heavier frame


Image shows Rattlesnalke off-road e-bike.