We strive for the ultimate customer experience, we don't want to be just another e-commerce store chasing for your business. As our Trustpilot reviews show excellent customer services is what we offer.
Our commitment to our customers:
We offer a qualified Cytech trained e-bike mechanic https://www.cytech.training/
We can arrange personal visits so you can discuss before deciding.
We can arrange personal delivery and set up if preferred.
We're always available for questions, chats or calls.
Company Background
The idea for Horizon Micromobility came about when founder Matt, fed up with working in a SaaS sales role was looking for an alternative career. Being a keen cyclist he was all too aware of the volume of commuter traffic and the environmental issues that go with it. 
Setting up a company in the micromobility sector seemed like a natural progression, matching his interest in all things electrical and technical and also trying to address the environmental impact of "last mile journeys."
Our mission is to provide quality products, that have been designed for the UK market at competitive prices. We know the value of happy, loyal customers so aim to achieve the highest possible customer services standard. If you see areas where we can improve then please let us know.
Warranty and Parts
All our electric scooters are supplied with a warranty so should you encounter a problem we'll be able to offer a solution. We have access to all the spare parts required to fix the scooters we sell. Take the Turboant X7 Pro for example, the parts library for this model extends to 62 separate parts. If you require a spare part then drop us a message and we'll provide further details.

It's also often possible to fix your e-scooter yourself once the issue has been established. We're able to provide service instructions and videos to assist - this reduces your e-scooter down time.
We've all spotted what originally looked like a bargain on Amazon or Ali Express only to find that the quoted price was essentially a random number! On top of that "bargain quoted price" you have to add on the shipping, then once in the UK there is the import duty and VAT to pay before the courier will deliver the product. And most products are transported by ship, not exactly the swiftest mode of transport. All our products are in the UK with no additional international carriage, tax, duty or bribes to pay!

To keep up to date please subscribe to our newsletter, follow our blog posts, check us out on Instagram or YouTube, or just pop us an email and say "hi."
See before you buy
Product reviews and YouTube videos are a great way to learn about a product's features.
You will find a link to a reviews page under each scooter, these videos cover unboxing, reviews and performance testing.
However if you prefer to see before your buy or to collect your scooter then why not get in touch to arrange an appointment to visit our Berkshire showroom?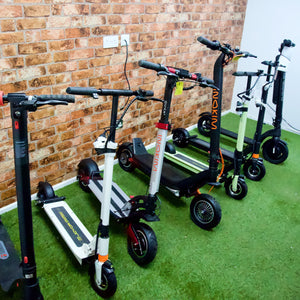 While most customers prefer the ease of online shopping some prefer the more traditional option of seeing before buying. So if you would prefer to view before you buy or would like to come and chat to us before deciding on a scooter then why not visit us?
Get in touch through chat or email and make an appointment to visit us at our Berkshire premises. 
Some customers also prefer to pick up their scooters from us rather than having to wait for delivery. When arranging collections we will also prepare your scooter ready for use and dispose of the packaging for you - leaving you with a new scooter to take away.
For further details please get in touch.
"The use of electric scooters and electric bikes to travel short distances around cities. Often to or from another mode of transport in order to complete the "last mile" of a journey."

Micromobility is seen as a solution to moving people around more efficiently in cities, cutting pollution and reducing the number of cars on our roads, It's also fun, you don't see many people getting off the number 73 bus with a grin, but you do with e-scooter riders.